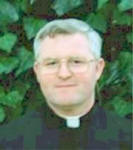 I recently wrote an e-mail to Fr. Edward McNamara through
ZENIT
 regarding an issue that I've sought a definitive answer on in the past, but have only received ambiguous answers, none of which were definitive. To my surprise, Fr. McNamara personally replied to my e-mail. Since it was a personal reply, I assumed that it would not be publish on ZENIT, so I ask Fr. McNamara for permission to post his answer on my blog, which he gave.
This was my e-mail to him. There is no address because I was sending it to the ZENIT liturgy column, and wasn't sure who exactly would receive it. Fr. Edward McNamara, by the way, is professor of liturgy (
Professore Ordinario di Teologia Sacramentaria e Liturgia
) at the
Regina Apostolorum University
.